Over $4,000 Raised for VOA at Swanson Rink's Inaugural Olympics Event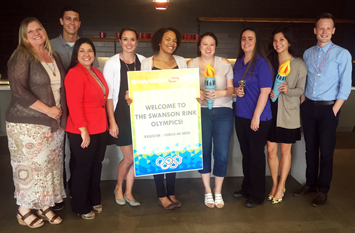 Swanson Rink hosted their fourth annual fundraiser, but first ever Olympics fundraising event, on Thursday, June 17, 2016, raising over $4,000 for their Swanson Rink Superior Standards Scholarship fund benefitting the Volunteers of America's Bannock Youth Center. An additional $1,600 was donated in raffle prizes from area donors. There were eight teams that participated in the Olympics games and over 50 attendees in total. Games included a timed puzzle, standing long jump, paper airplane throwing contest, putt-putt golf and darts.
Each year the Bannock Youth Center helps disadvantaged youth as well as their young children become independent, contributing members of society. Swanson Rink will continue their triumph of changing lives for the better with the Swanson Rink scholarship fund, permitting those in need to attend trade school or college. Over the past several years, Swanson Rink has helped to provide childcare, wellness classes, Life Skills coaching, Youth Recognition and holiday parties, as well as a remodel to the Bannock Youth Center facility.