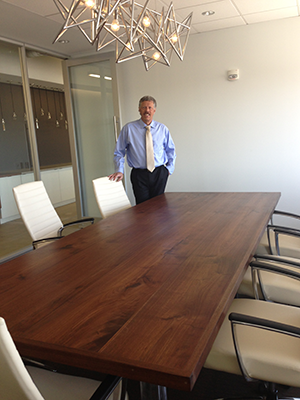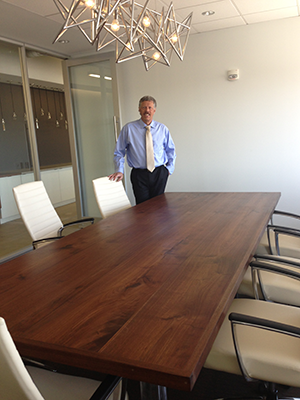 You might recall reading about the Swanson Rink staff working together on tables for our new office back in January… Now it's time to reveal the finished product!
After four months of hard work, the much anticipated walnut tables have arrived in the Swanson Rink offices. How did these tables come to be? The idea of crafting our own wood tables had been tossed around by company executives and managers during the preliminary visioning sessions for the new office back in the summer of 2012. Almost immediately everyone knew this was a job for Jim!
Our "jack of all trades," Director of Information Systems, Jim Flint was able to acquire 20 year-old stock walnut that had never been used, for a steal of a price. He enlisted the troops and got to work. Swanson Rink's Chelsey Lange, Michele Hendrick, and Andrew Alger joined Jim to cut the 1" thick walnut boards down to size. The next step was milling. (Jim just so happens to own of a 20 foot, 30 year old French sliding panel saw that is great for milling.) The saw uses 3 phase power and weighs about 4,000 pounds! After Jim and Andrew completed these steps, came the sanding, staining and finishing of the boards. The final touch was that each table was hand polished with a bees wax/carnuba finish.
The table bases were inspired by a combination of parson tables and the metal swirl design of the stainless steel at DIA. The bases were welded and a swirl finish was ground into the steel. Each table was designed to support upwards of 1,000 pounds!
Extra fun tidbit: These conference tables were so large they had to be hand carried up the stairwells and one even had to be placed on top of the an elevator car and brought up to the 12th floor through the elevator shaft!
Thanks again Andrew, Michele, Chelsey, and Jim!